"It's just flesh wound" the famous Monty Python quote when he has both arms and legs chopped off.
That is what is happening in the Gulf.
Un-biased news about the oil leak in the Gulf of Mexico and where will the oil go in the Gulf Current
Where do you think World Oil Giant BP is spending it's money?
1. Press and Media Control!  Oh yeah don't forget they have to spin the press, hmm how can BP you manage to get arrested over this.
Remember the  famous only 5,000 gallons a day or was it barrels.  Authorities predicted 20 times more right from the start.
2. Politicians!  Wow, now BP really has to make some payouts.  They though paying just for lobbying to drill the oil was expensive.
3. Hotels by the spill areas!  Why would BP by up all the hotel rooms by the spill area making it difficult to get a room, and then not fill them with BP cleanup crew.   Hmmm…
— Oh yeah,  they are trying to "clea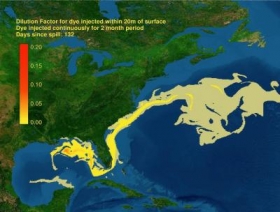 n" it up too.  The f-edup thing is I have read about other ways that we could be dealing with this.  But profit can be more long term with beach clean-up and less profit made to try to turn this oil into rubber or something.  (I actually read this suggestion by a scientist)
Real news source, please check daily if you want to know what is happening….
http://www.enn.com/ecosystems/article/41404 thank god for Environmental News Network.
I'm out -H